When I was about 6 or 7 years of age, my parents drove an Opel Kadett (Plate Number JJ8237) and my first ever favorite car was also an Opel...Opel Manta
To my delight, after decades since I last been in an Opel, I finally get to photograph an Opel Manta, during the A1 GP in Sepang recently.
I told the family - when I was a kampung boy this car was my dream car....THE sports car that I dream to own one day.....but for now, may be I'd settle for a Cooper-S lah...one day nanti, then kalau dah kaya sgt nanti maybe get a Manta as a part of the collection of muscle cars & bikes (it is okay to have a dream right?)
I guess I must have been too occupied that I have not posted some shots during the A1 GP in Sepang....well here are some of the shots...
We got some pass to the grand stand so we decided to bring the kids - their first ever racing circuit experience...earplugs & stuffs they carry their own in their own bags (train dr awal nanti senang dah biasa bwk beg sendiri maa), and off we go....but the first stop was BangiKopiTiam lah...a good morning breakfast...for everyone including Baby Aliya...
No no no no! Neena! Neeenaaaa!
...erhkk owh sorry..Baby Neena!
Aliya missed the race day, since she started to get cranky half way through the qualifying day, Aliya did not follow us on the race day....
Here are some shots done on the qualifying day & race day:
~ Alex Yoong of team Malaysia on the qualifying day....hehheh! Checkout the detailing done in this composition - the Jalur Gemilang in the background - to show the event is held in Malaysia.
~ Alex Yoong of Team A1GP Malaysia hits the dusty side of the KL Straight in the closing rounds of the Malaysian A1GP 2007 in Sepang. Despite his battling drive and determination to bag a podium finish on home turf, Alex only managed to finish on 13th place for the feature race, mainly due to a collision with the New Zealander Jonny Reid.
Neel Jani demonstrated the definiton of sheer supremacy by clinching both sprint & feature race pole for Switzerland in the A1 GP of Sepang, Malaysia 2007.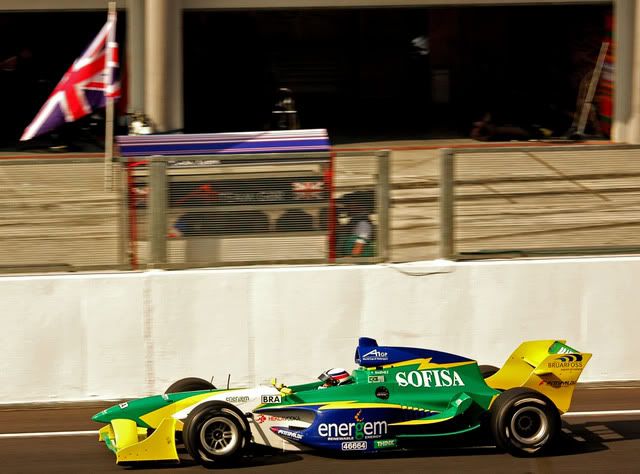 ~ Sérgio Jimenez of Brasil with the Union Jack hoisted at the camp of Great Britain A1GP team in Sepang. Brasil & Great Britian were penalized for being stationary at the red light on the pit exit after the first mandatory pit stop in the Malaysian A1GP 2007 in Sepang. 2 second penalty caused Brasil to be demoted to 3rd place, allowing France to be promoted to the 2nd place.
~ Loïc Duval of France clinched the 2nd place in the Malaysian A1GP 2007 in Sepang due to penalty given to team Brasil & Great Britain.
The winner - Team Switzerland